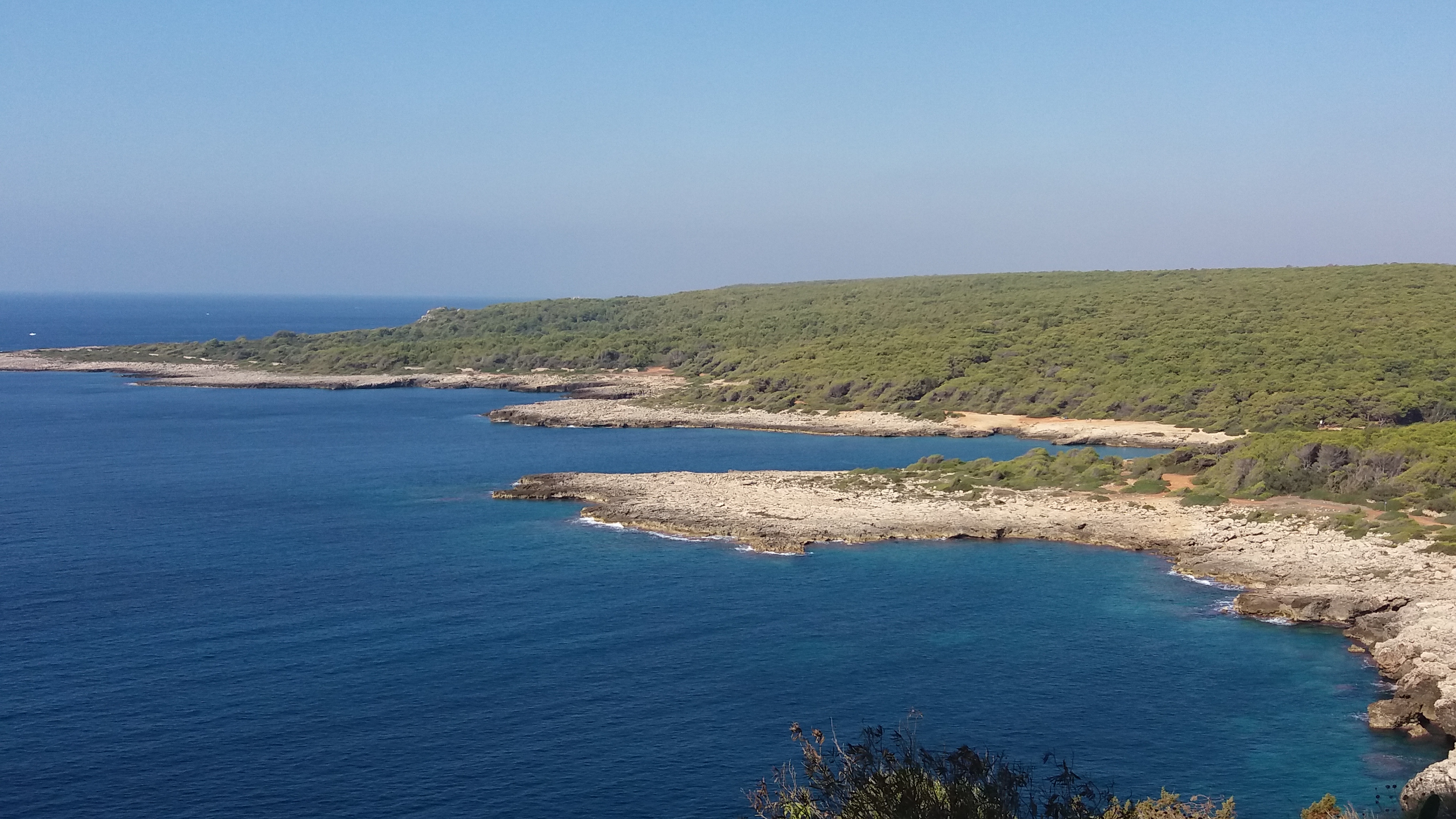 What to do in Salento – A wonderful day on the Ionian Coast to Porto Selvaggio
A wonderful escursion in South Salento and along its Ionian coast, starting from the preparation of the backpack with everything you need for a nice picnic, including a bottle of Negramaro wine, shorts and shoes suitable for a nice walk … .. and there you go!
In half an hour, starting from BioMasseria Santa Lucia, you arrive on the coast north of Gallipoli, yto Santa Maria al Bagno, and park the car at the foot of the hill where  Tower  Dell'Alto is located.
With a climb with breathtaking steps you arrive at the Tower, from which you can enjoy a fantastic view along the coast and on the natural park of Porto Selvaggio. From here, you can go down on the opposite side and reach the bay of Porto Selvaggio where it is a must to take a refreshing dip. Refreshing indeed, because thanks to the resurgences in the bay of fresh and sweet water, here the water is always fresh.
You can continue along the coast to reach the cave Grotta del Cavallo and, further north, Torre Uluzzo.
It is an easy trek with many beautiful views of the sea and the pine forest, the Mediterranean flora is intact as far as the eye can see: carob, lentisk, cistus, laurel, arbutus, myrtle and juniper, form an inextricable natural park, at the foot of  the Aleppo pines' wood.
On the cliff, under the sun and in the sea breeze, you can sip the Negramaro and be delighted with the most delicious of picnics and take a rest, losing your gaze in the sparkle of the sun's rays on the sea waves.
You return along the same path and by car,  heading south, you cannot  miss Santa Caterina and Santa Maria al Bagno, two towns overlooking the sea.
It is possible to continue on the coastal road passing by the most frequented Lidos around Gallipoli,  Punta Pizzo and the quiet towns of Mancaversa and Torre Suda.
The sea always in plain sight and the sharp rocks give  irresistible glimpses. With these beauties in tyour eyes you reach Torre San Giovanni, Lido Marini and Torre Pali where, having some more spare time at your disposal, you can stop to admire the sunset with your feet in the sand and a cocktail in your hands … ..