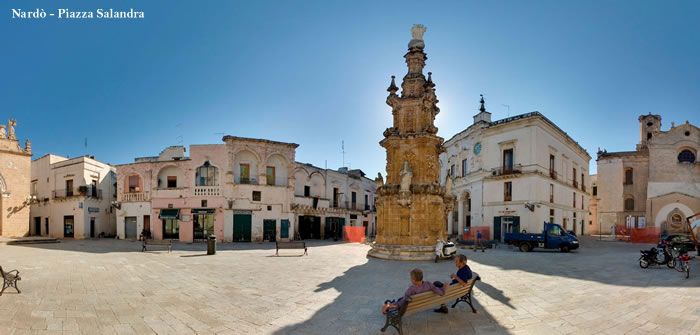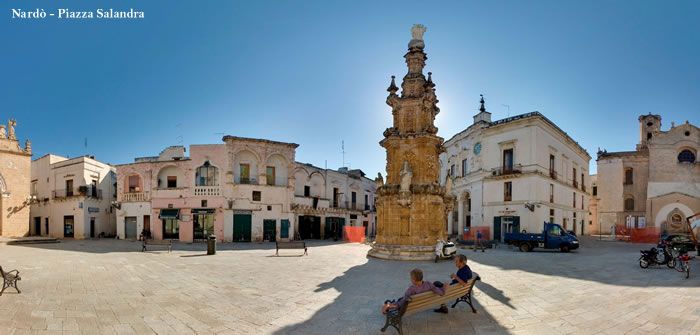 A visit to Nardò
The city of Nardò is located north of Gallipoli, not far from the Ionian Sea coast.
Very populous and with a large territory, it preserves a rich historical center with surprising charming.
The architectural wealth of Nardò is due to the presence of the episcopal center.  The various noble families who succeeded each other in command of the city also contributed to its beauty.
During a visit to this city you will find noble palaces, churches, chapels and convents. The current Palazzo di Città, once a defensive bulwark, is very impressive.
The surprise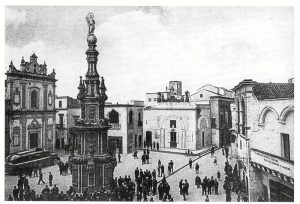 But the surprise is consisting in Piazza Salandra, the "neretini's living room", one of the most spectacular squares in Salento.
In the center of the square dominates the Obelisk with the statue of the Immaculate Conception. On the sides the Sedile, Palazzo della Pretura, the church of San Trifone and the Fontana del Toro.
Gastronomic Nardò
In Nardò and in the surrounding area you will find many gastronomic delicacies:
The countryside is full of vineyards and the city boasts prestigious cellars for the production of Nardò DOC wine.
Approaching the coast, the red soil fields are planted with potatoes and watermelons. Thanks to the very favorable position, it is possible to produce first fruits here, which are exported and appreciated in northern Europe.
Even breeding and consequently dairy production are very flourishing.
The way the sea
If you want to reach the sea, you will pass by Le Cenate. The way to the sea is dotted with noble holiday villas and gardens dated between  early 1700s and late 1800s.
You will reach Santa Maria al Bagno and Santa Caterina, two pretty places that overlook the sea.
You can walk on the seafront or sit in one of the many bars, taste an ice cream and look at the beautiful
colors of the sea.
North of Santa Maria al Bagno you will find  Porto Selvaggio Natural Park. You can go trekking but if you bring your swimsuit, you can cool off with a nice dip in the sea.